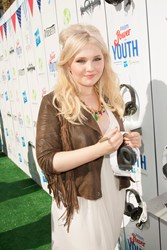 Los Angeles, California (PRWEB) July 30, 2013
On Saturday, Variety honored Hollywood?s most philanthropic young entertainers at their seventh annual Variety?s Power of Youth event sponsored by Flips Audio at Universal Studios in Los Angeles.
Flips Audio, the first ever headphones that convert to HD speakers, sponsored the star-studded event, produced in conjunction with Variety?s annual Youth Impact Report, and created a "Solo2Social" experience with their first headphone interactive red carpet activation for Variety. Celebrities tested Flips that were suspended from the red carpet wall fixture, and listened to some of their favorite tunes before flipping their headphone cuffs to speakers so guests could hear what they were enjoying.
The event featured an exclusive afternoon of festivities, live performances and an awards presentation. The evening celebrated a select group of outstanding young entertainers, chosen to receive the Variety Power of Youth generationOn Award, who, through their efforts, have made significant contributions to their chosen philanthropic and charitable causes. The guest list was comprised of 500 invite-only guests, made up of the ?who?s who? of under-25 actors, actresses and recording artists, industry executives and their families and the children and families directly affected by the honorees? benefiting charities.
This year?s honorees included Jake T. Austin (Ronald McDonald House), Abigail Breslin (Project Sunshine), Nina Dobrev (Free the Children), Tyler Posey (Leukemia and Lymphoma Society) and Quvenzhan